The New Car Deals sponsorship is the ideal placement for manufacturers who want to influence a consumer's consideration set by delivering relevant retail messaging to an in-market audience.
The weekly buyout consists of a hero image displayed at the top of the page (offsite-click) and the first car position within the New Car Deals listings (internal-click).
Sponsorship of the New Car Deals is extended through placement on our Discount New Cars newsletter, which is distributed to 70,000 subscribers each week.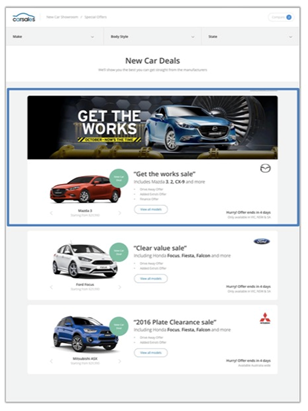 Sponsorship is the same look at feel on desktop as it is for mobi, clicking the sponsored car opens a lightbox displaying all offers from the manufacturer.