This whitepaper is thorough overview of the Nielsen research project into the Power of Context, and covers everything from background and methodology through to results and impact.
Carsales Digital Brand Effect Study - The first Australian study of its kind.
The white paper on this Australian first study into better understanding the impact of contextual relevance on brand metrics is now available. Please refer to the summary below for a brief overview.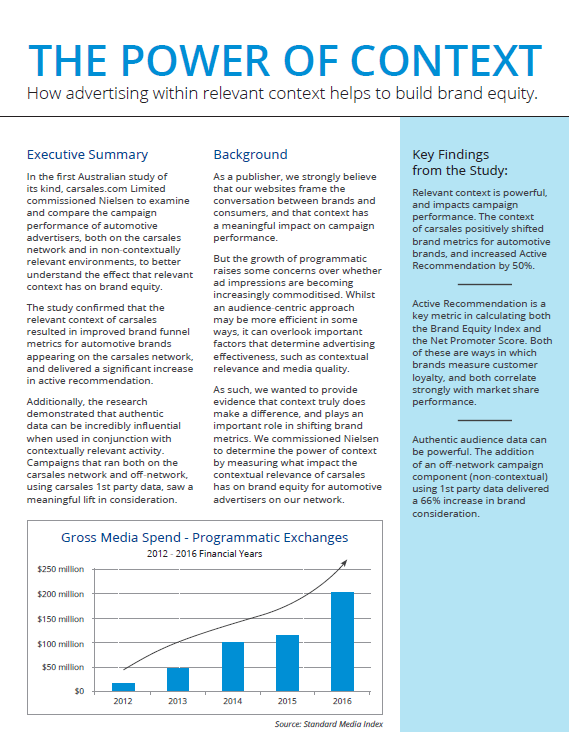 Research Objective:
Understand the power of contextual advertising on the Carsales network in building brand equity for automotive brands, across multiple auto campaigns
How did the campaign perform?
Framing campaign evaluation around the purchase funnel helps understand the stage potential customers are at with respect to discovering a brand vs their competitors and, importantly, if the campaign is successful in shifting brand metrics.
The key to the purchase funnel is analysing conversion rates from one stage of the funnel to the next and the ability to zero in on a brand's strengths and weaknesses.
Across campaigns measured exposure resulted in improved lower brand funnel scores vs control.
Auto advertising in Carsales context delivers additions uplift for recommendation.
Key findings: 
For digital automotive advertising on Carsales, context does impact the campaign performance for active recommendation and intention
Campaigns on the Carsales network saw a 50% uplift for active recommendation compared to total campaign exposure
To read the full white paper please click here or download from the link at the bottom of this page.