Car Of The Week
Car of the Week is a popular native sponsorship placement, delivering high reach awareness for a single model in a brand family for a whole week.
The Car of the Week placement appears in various prominent positions across the carsales auto network, targeting consumers as they research the market, and form their consideration set.
Car of the Week is currently displayed across desktop, mobile and tablet, with additional exposure coming through the carsales apps in 2017.
An upsized option - Car of the Week Plus – will be available in the product mix in 2017, with additional exposure amplified across membership, editorial and results feeds.
Consideration Package
The consideration package encompasses two native ad placements, both designed to get your car model on the buyer's consideration list.
1.Guaranteed Consideration, which promotes a manufacturer's generic new car listing by seeding it amongst search results for new and used competitive models, and captures the attention of consumers researching vehicles in your VFACTS competitive set, who may not have considered that vehicle previously.
2.The Comparison Tool, which allows consumers to directly compare price and specs of cars side-by-side, with a native ad unit automatically placed in view. The Comparison Tool has been relaunched across multiple areas of the network, including carsales stock search, new car showroom, and Redbook.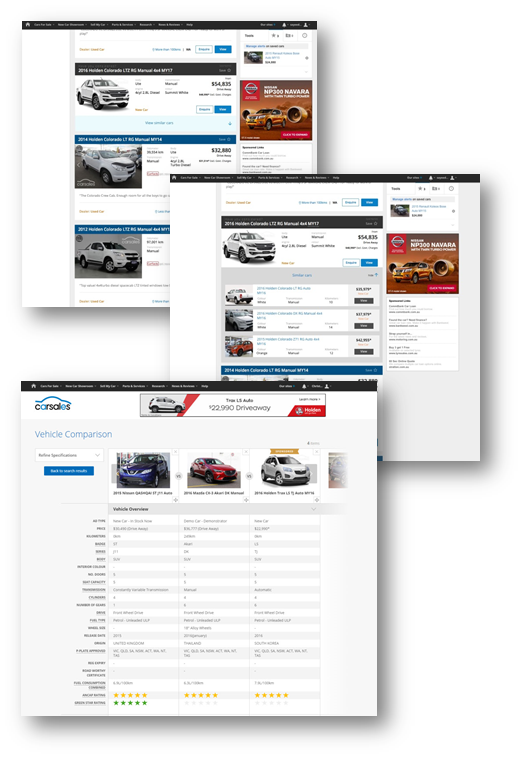 Content Amp
Engaging content is a powerful way to get your car into the consumer's consideration set.
Content Amp increases the longevity of your carsales editorial or brand produced content, and ensures that your relevant content is still highly visible and readily available to consumers whenever they enter the market to build their consideration set.
Content Amp is promoted to an in-market audience on the carsales network, off network through our data partnership with Audience 360, through social media, and via our email newsletters, and drives consumers to an environment where they can engage with your content.
Results have shown to drive a significant increase in editorial visits, with Beta partners seeing up to 3.5 X boost in organic views, and a positive flow on effect on model searches. Consumers spent over 2 minutes engaging with the content.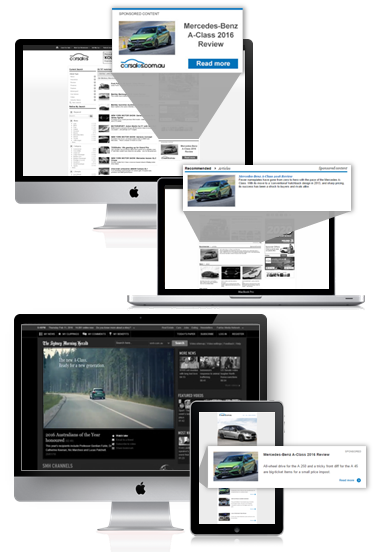 Ratings Amp
Car reviews and ratings are a highly trusted source of information for car buyers when they are in the landscape and consideration phases of their new car research.
Ratings Amp is a native ad placement that boosts the reach of car model reviews and ratings within the carsales in-market buying marketplace, and off-network, retargeted to matching intenders, through our data partnership with Audience360.
Advertisers can choose to amplify an independent expert review that Motoring.com.au have written about a key model, or they can boost the reach of a carsales' owner review.
Ratings Amp is opening up for beta partners in 2017.