Guaranteed Consideration is designed to get your car model on the buyer's consideration list by seeding a manufacturer's generic new car listing amongst search results for new and used competitive models.
It captures the attention of consumers researching vehicles in your VFACTS competitive set, who may not have considered that vehicle previously.
Desktop
Mobile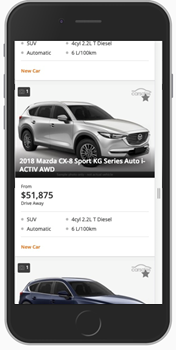 Detailed specifications can be accessed here: Ad Specs for Guaranteed Consideration
Please allow 10 working days for creative deadline prior to campaign launch date.
To book a campaign, or request a proposal, please contact your account manager or click here to contact us.